Opportunity in South Sudan
Current Opportunity:
A large health program for SIM (Serving in Mission) in Doro, Upper Nile State, South Sudan needs midwives. We are looking for some long-term missionary midwives to work in the maternity clinic. Our current missionary midwife is leaving to get married and our Kenyan midwifery paid staff is limited due to lack of program finances. We are desperately in need of some good midwives—1 or preferably 2, would be such a great help.
Testimony from South Sudan: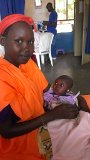 I had the privilege of doing two internships with NewLife in the Philippines, and it was an amazing experience. My desire was to learn how to "catch" babies so I could train birth attendants here in South Sudan where there is limited access to such services. Most women here birth at home with the aid of a woman in the community who has not been properly trained. As a result we have women dying in childbirth at alarming rates. Since the mothers don't understand the importance of post-natal checks, many infants die soon after birth from sepsis or other complications. Midwives are greatly needed here not only to birth babies themselves but also to train local women the skills needed to safely assist women in their communities.
We now have need for long-term midwives to be part of our program.
Please visit: www.hopeforeverynation.com for more information about our work here in Doro, South Sudan or to contact me for further information.
Cathy, MPH, PA-C.