Tabuk, Philippines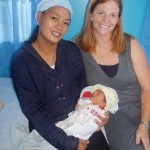 After completing my practical midwifery training in the Philippines, I decided to move here and continue working as a midwife. I wrote my board exam in 2005, got my CPM credential and moved permanently to the Province of Kalinga in the northern Philippines in 2006. Because of my love for the people in this area as well as the obvious need for maternity care for the tribal peoples, my husband and I set up a maternity clinic to provide free Midwifery care to the tribal peoples in and around the capitol city of Tabuk as well as into the remote mountains of Kalinga.
Our clinic, Abundant Grace of God Maternity Center, has delivered almost 1500 babies free of charge. I have also trained dozens of Filipino and Foreign midwifery students. In 2012 we opened a sister clinic in the remote mountains of Bugnay, Tinglayan.
My favorite part of being a missionary midwife is training new midwives who go on to care for the women in their own villages or who even go to other countries and care for women.
The hardest part of being a missionary midwife is being far away from my family in Canada.
I would recommend any woman who feels a desire to serve as a midwife overseas to do it! There is nothing that can compare to sharing God's love with women and families through maternity care. Pregnancy, labor and delivery are all such special times in a woman's life, but also a time of great vulnerability. It is so important for women to have caring, loving medical professionals during these times and unfortunately in most developing countries, it is not readily available.
Georgia
Director – Abundant Grace of God Maternity Center
Tabuk, Kalinga Philippines
*For more information about the clinic in Tabuk, please connect with us